Washington, DC - Servicemembers must plan carefully for a successful transition to a new civilian career. Earning a degree or taking some courses can be the first step toward a profession outside the service. But the military community needs trustworthy information to choose programs that work. That's why the FTC just announced a proposed settlement with Victory Media, alleging that its school search tool promoted schools that paid the company, while claiming it gave independent advice.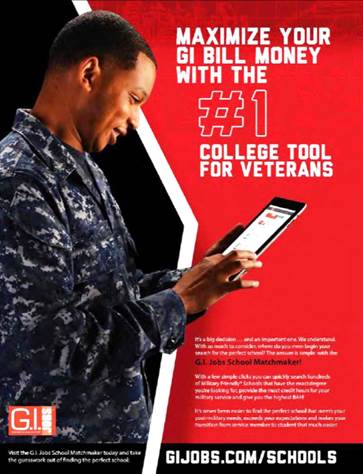 Victory Media is known for its annual list of "military friendly" schools which appeared in its Guide to Military Friendly Schools and at militaryfriendly.com. The company based this list on a survey of post-secondary schools that asked about things like the schools' job placement and graduation rates, and programs relating to military students. But according to the FTC, while Victory Media said its online School Matchmaker tool would search schools designated as "military friendly," it didn't. Instead, the tool served up as matches only schools that paid Victory Media to be included. Because the tool operated on a pay-to-be-included basis, it even searched some schools that Victory Media itself found were not "military friendly."
Victory Media widely circulated the Guide and its other publications – G.I. Jobs and Military Spouse – on military bases, hospitals, and where the military holds its mandatory Transition Assistance Programs. It also was active online, recommending schools in its online "Hot Degrees" articles and in social media posts and emails. But the FTC says the company's endorsements of schools in its "Hot Degrees" articles and certain of its posts and emails were advertising in disguise, because the schools it promoted paid Victory Media to be included.
The FTC is accepting public comments about the proposed settlement until November 20, 2017.
Military families deserve the opportunity to make the most of their education benefits. That includes being told when school recommendations are really advertising in disguise. The bottom line is, if you're taking payments from advertisers to recommend their products and services to your audience, or to promote them in your search results, you need to disclose that your content is sponsored or payment-influenced. You might even want to take a little refresher on the rules of the advertising road. If your employees or customers include servicemembers or veterans, send them to MilitaryConsumer.gov for tips to help find a school to suit their needs.